Step 1/7
4

tbsp

rosewater

150

g

spelt flour

100

g

ground almonds

10

g

baking powder

1

pinch

salt

100

g

brown raw sugar

100

g

plant-based almond yogurt alternative

50

ml

vegetable oil (refined, neutral)

1

tbsp

white wine vinegar

150

ml

almond drink
oven
large mixing bowl
stand mixer or hand mixer with beaters
Preheat oven to 200°C/400°F. Combine some of the rosewater, flour, ground almonds, baking powder, salt, sugar, some of the yogurt, oil, vinegar, and almond drink in the bowl of a stand mixer.
Step 2/7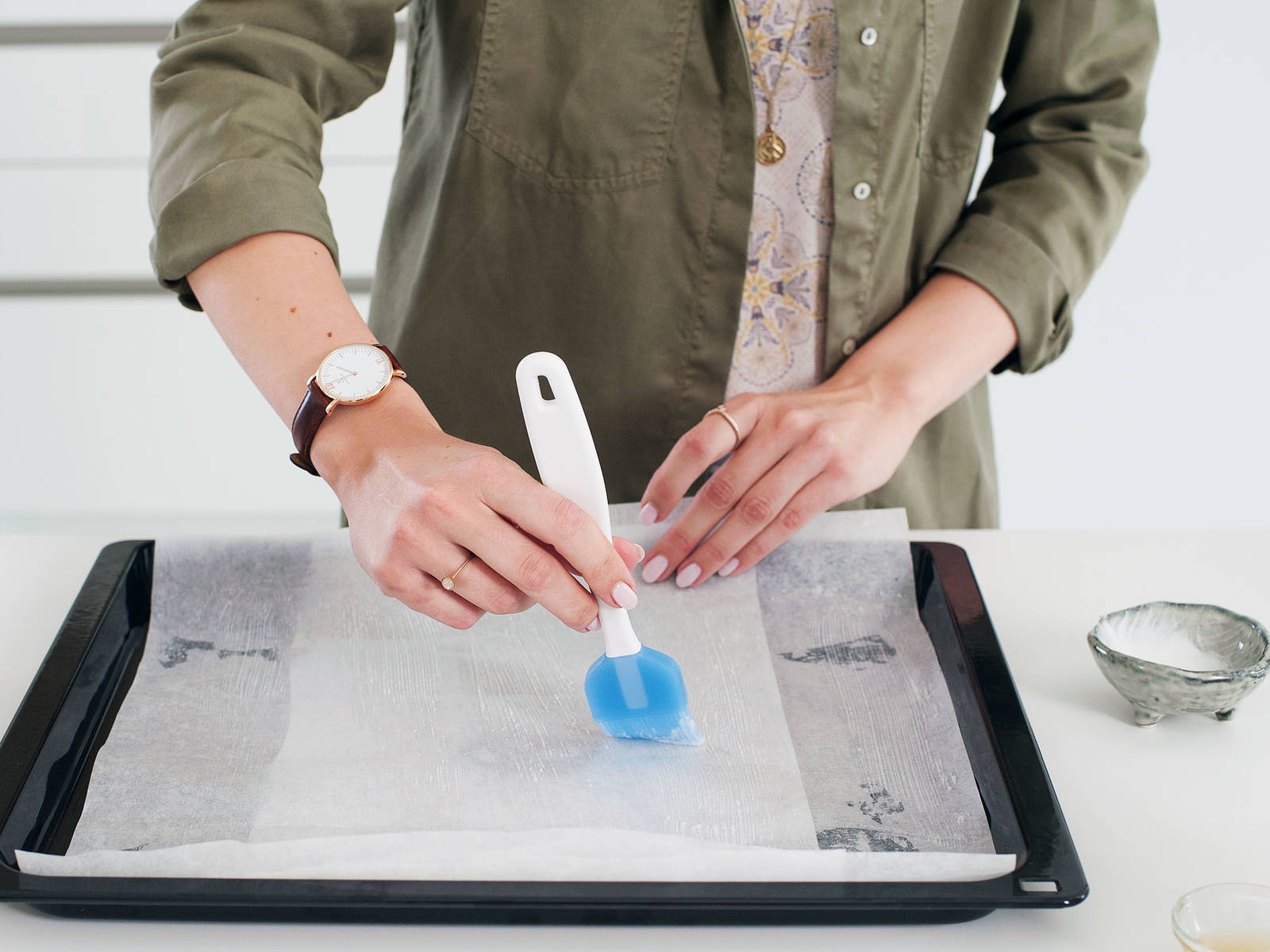 pastry brush
baking tray
parchment paper
Line a baking tray with parchment paper and grease with oil.
Step 3/7
Spread batter evenly over baking tray. Softly tap bottom of tray to release air bubbles in batter. Bake for approx. 20 – 25 min. at 200°C/400°F, or until batter is set. Let cool for approx. 15 - 20 Min.
Step 4/7
400

g

plant-based cream cheese alternative

2

tsp

agave syrup

4

tbsp

rosewater

200

g

plant-based almond yogurt alternative
piping bag with tip
large mixing bowl
stand mixer or hand mixer with beaters
Meanwhile, prepare the cream. Mix together plant-based cream cheese alternative, agave syrup, remaining rosewater, and plant-based almond yogurt alternative until combined. Transfer cream to a piping bag fitted with a tip.
Step 5/7
Cut 16 circles out of slightly cooled cake; try to cut so as to waste as little cake as possible.
Step 6/7
4 cake rings
piping bag with tip
Place one cake circle in each dessert ring, then pipe approx. 1 tbsp. cream on top of each. Place another cake circle on top and repeat until each ring has four layers of cake circles. Leave the top cake circle bare. Transfer cakes and remaining cream to refrigerator to rest overnight.
Step 7/7
dried, edible rosebuds for garnish
Carefully loosen the cakes from their rings, using a small knife, if needed. Spread the remaining cream on top of each cake and, if you like, on the sides of the gateaux. Top with dried rosebuds.